Hey!
Here it is! The day has finally arrived when we can say:
"Happy First Birthday to The Craft's Meow!"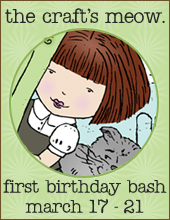 Yup, today is the official first birthday of The Craft's Meow; and after a fabulous party these past few days, we're ending it off with a blog hop.
Hopefully you've hopped here from my fabby teamie,
Amy T
(if not be sure to start the hop at the TCM Blog!)
For my blog hop card I couldn't resist the sweet images in Jenny Suchin's set, Spring is Here:
This card is tiny (3x3) and perfect for tucking into my guy's lunch :)
I really wanted that red heart to 'pop' from the design and be the focal point so kept the rest of the card white. The tiny heart was punched from a heart-lace border punch - never throw away those li'l shapes that you punch out y'know...!
Now before you hop along, there's a couple of exciting things going off as we still party so I'm gonna break it down:
1. Join in this hop and comment on everyone's post to be in with the chance of winning the entrire release!

(That's a total of 6 sets!)

The winner will be one random commenter from one of our blogs.
You've got until Friday March 23rd 9pm PST to make the rounds!
2. Keep the party sprirt alive by joining in any one of our 4 challenges up to March 31st. Please use TCM goodies or use the free digis via the TCM FB page

(or if you're not on FB - pop an email to thecraftsmeow@gmail.com)
3. Today is release day! Spend $50 or more at the TCM Store up to March 31st to receive the fabulous set, Thanks Bee to Thee absolutely FREE!
4. If you're on Facebook then be sure to like the TCM Page and spread the word. Not only will you recieve two gorgeous digi images designed by Karen Baker but you could win:
A $25 gift certificate for the TCM Store if the page hits 1,500 likes by March 31st OR
A $50 gift certificate for the TCM Store if the page hits 1,750 likes by March 31st OR

A

$100

gift certificate for the TCM Store if the page hits 2,000 likes by March 31st!



Phew! That's a lot of info but I don't want you missing out on any chances of winning something fabulous :)
OK so back to the hop! It's been lovely to have you hop here today - time to hop along to Ivana!
Thanks so much for hopping by!
Catch ya later!